< Previous | Contents | Next >
Programmable Charging Disabled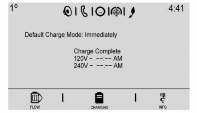 When the Programmable Charging
system is disabled, the Default Charge Mode Status screen and the pop-up
will display "- -:- -" for the Charge
Complete Time. The Programmable
Charging system will be disabled if the Charge Complete Time cannot be
confidently estimated. If the
Programmable Charging system is
consistently disabled, see your dealer.
A message displays if the vehicle is not able to charge.
Energy Information (PLUG-IN Only)
To view the Energy Usage and Energy Details, touch [ on the
infotainment display and then touch INFO at the bottom of the display.
Touch S or T to switch between the
screens.
Energy Usage
The Energy Usage screen displays
information for the total of all drive cycles since the last time the high
voltage battery was fully charged. This includes:
. Distance traveled in Electric Mode
. Distance traveled in Engine Power Mode
. Total distance traveled
. Electric energy used from the battery
. Total fuel used
. Average fuel economy
The electric equivalent to fuel
economy is MPGe. Touch MPGe on
the screen to view. When dashes are displayed, the maximum limits to
some values have been reached.
The circle graph displays
the percentage of distance traveled using Electric Mode versus Engine Power Mode. The Energy Usage
information will also appear
automatically on power off when
Retained Accessory Power is active.
This pop-up can be disabled. See "Energy Summary Pop-up" under Vehicle Personalization 0 168.