< Previous | Contents | Next >
Press M or L, if equipped, to heat the left or right outboard seat‌‌‌
cushion only.
Press I or +, if equipped, to heat the left or right outboard
seatback only.
Press J or z, if equipped, to heat the left or right outboard seat cushion and seatback.
See Heated and Ventilated Rear Seats
0 76.
Head Restraint Adjustment
Do not drive until the head restraints for all occupants are installed and
adjusted properly.
To achieve a comfortable seating
position, change the seatback recline angle as little as necessary while
keeping the seat and the head
restraint height in the proper position.
See Head Restraints 0 65 and Power Seat Adjustment 0 67.
Seat Belts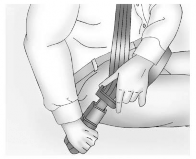 Refer to the following sections for
important information on how to use seat belts properly:
. Seat Belts 0 78.
. How to Wear Seat Belts Properly
0 79.
. Lap-Shoulder Belt 0 80.
. Lower Anchors and Tethers for
Children (LATCH System) 0 103.
IN BRIEF 15
Passenger Sensing System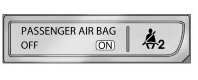 United States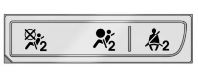 Canada
The passenger sensing system turns off the front outboard passenger
frontal airbag and knee airbag under certain conditions. No other airbag is affected by the passenger sensing
system. See Passenger Sensing System
0 91.
The passenger airbag status indicator will light on the overhead console
when the vehicle is started. See Passenger Airbag Status Indicator 0 140.