< Previous | Contents | Next >
Mirror Adjustment
Exterior Mirror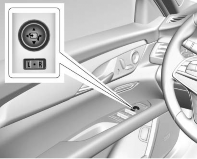 1. Move the selector switch to L
(Left) or R (Right) to choose the driver or passenger mirror.
2. Press one of the four arrows to move the mirror.
3. Move the selector switch to ) to deselect the mirror.
The vehicle has manual folding
mirrors or, if equipped, power folding mirrors. See Power Mirrors 0 55.
Interior Mirror
Adjustment
Adjust the rearview mirror for a clear view of the area behind your vehicle.
Automatic Dimming Rearview Mirror
Automatic dimming reduces the glare of headlamps from behind. The
dimming feature comes on when the vehicle is started.
Rear Camera Mirror
If equipped, this automatic dimming
rearview mirror provides a wide angle camera view of the area behind the
vehicle. For ease of use, adjust the mirror for a clear view of the area
behind the vehicle while the display is off. See Rear Camera Mirror 0 57.
Steering Wheel Adjustment
Power Tilt and Telescoping Steering Wheel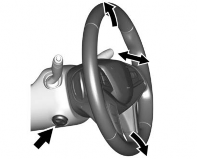 Press the control to move the tilt and telescoping steering wheel up and
down or forward and rearward.
Do not adjust the steering wheel while driving.
Interior Lighting
Dome Lamp
The dome lamp is in the overhead console.