< Previous | Contents | Next >
9. Ionizer Status Indicator (If Equipped)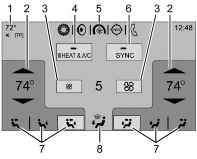 Climate Control Display (PLUG-IN Only)
1. Outside Temperature Display
2. Driver and Passenger Temperature Controls
3. Fan Control
4. Heater and A/C (Air Conditioning)
5. Climate Control Selection (Application Tray Button)
6. SYNC (Synchronized Temperature)
7. Driver and Passenger Air Delivery Mode Controls
8. Defog
See Automatic Climate Control System (Quad Zone - Gasoline Only) 0 195 or
Automatic Climate Control System (Dual Zone - Gasoline and PLUG-IN) 0 190.
Transmission
Tap Shift
Vehicles equipped with Tap Shift allow shifting an automatic
transmission similar to a manual transmission. Tap Shift can be
enabled through the shift lever or the Tap Shift controls on the back of the steering wheel. See Manual Mode
Vehicle Features
Infotainment System
See the infotainment manual for information on the radio, audio
players, rear seat infotainment, phone, navigation system, and voice or
speech recognition. It also includes information on settings.
Steering Wheel Controls
The infotainment system can be
operated by using the steering wheel controls. See "Steering Wheel
Controls" in the infotainment manual.