< Previous | Contents | Next >
4. Open the window and continue to press the switch briefly after the window has fully opened.
Remote Window Operation
If equipped, this feature allows all the windows to be opened remotely.
If enabled in vehicle personalization, press and hold K on the RKE
transmitter. See Vehicle Personalization
0 168.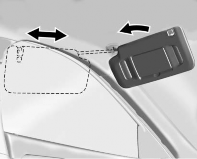 Sun Visors
Pull the sun visor down to block glare. Detach the sun visor from the center mount to pivot to the side window,
or to extend along the rod.
Rear Window Sunshade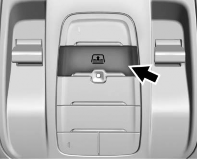 If equipped, press and release the
switch. The rear window sunshade will fully extend. To close the
sunshade, press and release the switch again. The sunshade will fully close.
When shifting the vehicle into R (Reverse), the rear window
sunshade will automatically retract if
it is extended. It may re-extend after a short delay when shifting into D
(Drive).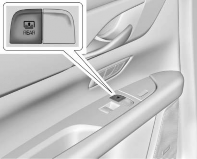 There is also a control for the rear window sunshade on the rear door panel.