< Previous | Contents | Next >
22. Data Link Connector (DLC) (Out of View). See Malfunction
Indicator Lamp (Check Engine Light) 0 141.
23. Instrument Panel Storage 0 115. Instrument Panel Fuse Block
0 343.
24. Electric Parking Brake 0 233.
Instrument Panel Illumination Control 0 185 (Out of View).
Head-Up Display (HUD) 0 163 (If Equipped) (Out of View).
Initial Drive Information
This section provides a brief overview about some of the important features that may or may not be on your
specific vehicle.
For more detailed information, refer to each of the features which can be
found later in this owner's manual.
Stop/Start System (Gasoline Only)
The vehicle has a fuel saving stop/ start system to shut off the engine and help conserve fuel.
When the brakes are applied and the vehicle is at a complete stop, the
engine may turn off. When the brake pedal is released or the accelerator
pedal is pushed, the engine will restart.
If equipped, the automatic engine
stop/start function can be disabled by touching h on the center stack.
See Starting the Engine (PLUG-IN Only) 0 216 or Starting the Engine (Gasoline Only) 0 219.
Remote Keyless Entry (RKE) System
The Remote Keyless Entry (RKE) transmitter may work up to 60 m (197 ft) away.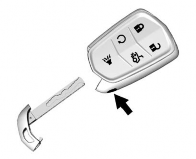 Press the button to remove the key.
The key can be used for the driver door.
Press K to unlock the driver door or all doors, depending on the vehicle
personalization settings.
If equipped, press K to unlock the fuel door.
Press Q to lock all doors.