< Previous | Contents | Next >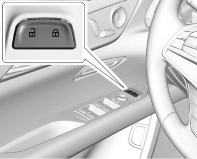 From inside, press Q or K. See Power Door Locks 0 45.
Trunk
To open the trunk:
. Press | on the driver door. For PLUG-IN vehicles, the trunk
release switch is part of a dual
switch that includes the fuel door switch. See Filling the Tank 0 296.
. Press X twice quickly on the Remote Keyless Entry (RKE)
transmitter.
. Press the touch pad on the rear of the trunk above the license plate
after unlocking all doors.
If equipped, these will also open the power trunk. See Trunk 0 47.
Windows
The power windows work when the ignition is on, in ACC/ACCESSORY, or when Retained Accessory Power
(RAP) is active. See Retained Accessory Power (RAP) 0 222.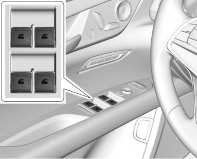 Using the window switch, press to open or pull to close the window.
The windows may be temporarily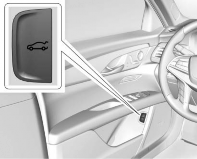 disabled if they are used repeatedly within a short time.