< Previous | Contents | Next >
Controls
INSTRUMENTS AND CONTROLS 119
Steering Wheel Controls
The infotainment system can be
Universal Remote System
Steering Wheel Adjustment
Power Tilt and Telescoping Steering Wheel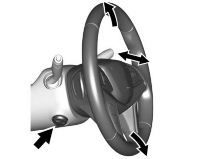 Press the control to move the tilt and telescoping steering wheel up and
down or forward and rearward.
Do not adjust the steering wheel while driving.
operated by using the steering wheel controls. See "Steering Wheel
Controls" in the infotainment manual.
Heated Steering Wheel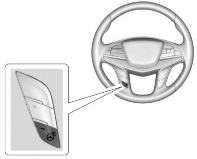 ( : If equipped with a heated steering wheel, press to turn on or off. An
indicator next to the button is lit when the feature is turned on.
The steering wheel takes about three minutes to start heating.