< Previous | Contents | Next >
displays, and beeps. When the vehicle speed is below 30 km/h (18 mph),
touch O to enable the system.
See "Automatic Parking Assist (APA)" under Assistance Systems for Parking or Backing 0 260.
Reverse Automatic Braking (RAB)
If the vehicle has Adaptive Cruise Control (ACC) it also has the RAB system, which is designed to help
avoid or reduce the harm caused by backing crashes when the vehicle is
shifted into R (Reverse). If the system detects the vehicle is backing too fast
to avoid a crash with a detected object behind your vehicle in your path, it
may automatically brake hard to a stop.
See Assistance Systems for Parking or Backing 0 260.
Surround Vision Recorder
If equipped, the Surround Vision
Recorder records 360° camera views to an SD card. Only images are recorded, no sound.
See Surround Vision Recorder 0 279.
Power Outlets
Power Outlet 12-Volt Direct Current
The 12-volt accessory power outlet can be used to plug in electrical
equipment, such as a cell phone or
MP3 player. The vehicle may have an accessory power outlet on the rear
seat trim panel (gasoline and
PLUG-IN) and inside the trunk (PLUG-IN only).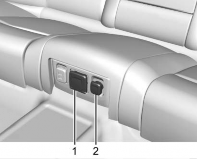 1. Power Outlet 110V/120V Alternating Current
2. Power Outlet 12-Volt Direct Current
Lift the cover to access the power outlet.
Universal Remote System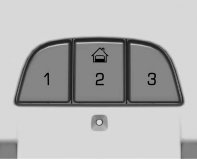 If equipped, this system provides a way to replace up to three remote
control transmitters used to activate devices such as garage door openers, security systems, and home
automation devices.