< Previous | Contents | Next >
There are cupholders in the center console. Push and release on the‌‌‌
passenger side of the cover to access the cupholders.
Additional Storage Features
Cargo Tie-Downs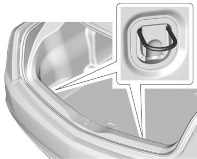 The cargo tie-downs can be used to secure small loads and the
convenience net. See Convenience Net
0 117, if equipped.
STORAGE 117
Convenience Net
The vehicle may have a convenience net in the trunk. The net is attached to the cargo tie-downs. Put small
loads behind the net. It can also be positioned into an envelope to hold smaller items inside. Do not use the net for heavy loads.